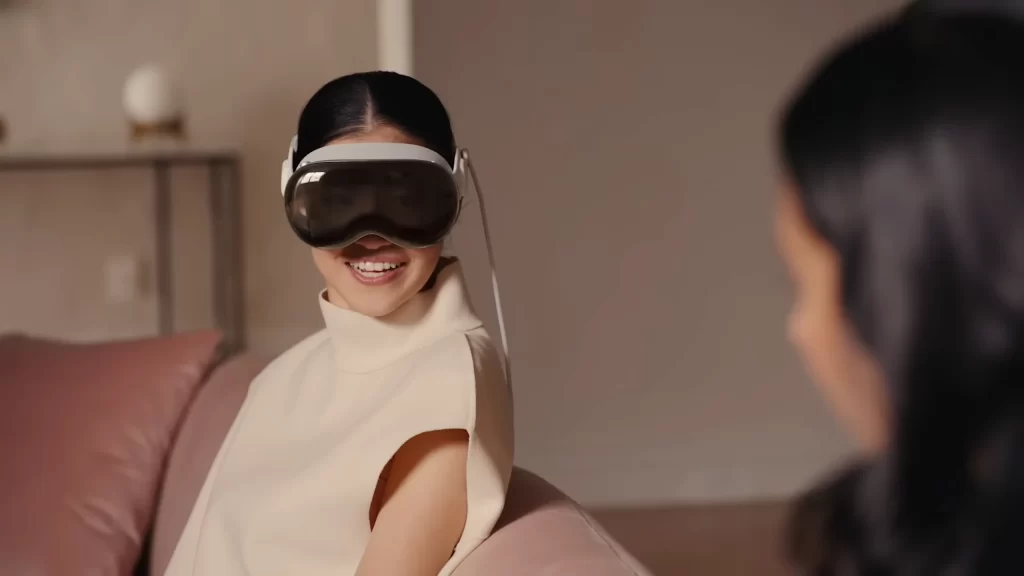 ---
Apple just announced Vision Pro, their first VR/AR Headset – A revolution but for a too high price
Apple Vision Pro is Apple's new AR/VR headset that introduces spatial computing, allowing users to see their world and interact with virtual content in their space.
The headset features visionOS, Apple's first-ever spatial operating system, which allows users to navigate using eye movements, taps, scrolls, and voice commands. The spatial experience feeling within Vision Pro appear realistic, with apps having dimension, reacting to light, and casting shadows.
---
Apple Vision Pro for Entertainment
Entertainment experiences such as multimedia watching can be taken to the next level with a VR headset like this one, it allows you to have a movie theater-like experience, in any place, whether you're at home or on a plane travelling, on the car… you can immerse yourself in a completely different environment, helping to focus on the movie or series.
The headset automatically darkens the room and allows the user to choose both the screen size and the environment you're in, so you can enjoy your favourite movies on the big screen totally immersed.
As we all know the image quality is not all that matters, and Apple knows it too, Vision Pro AR/VR headset comes with spatial audio that surrounds the user, making them feel part of the action.
Additionally, the Vision Pro supports gaming on a massive screen with high-quality spatial audio, offering an immersive gaming experience like no other thanks to the more than great image and audio quality.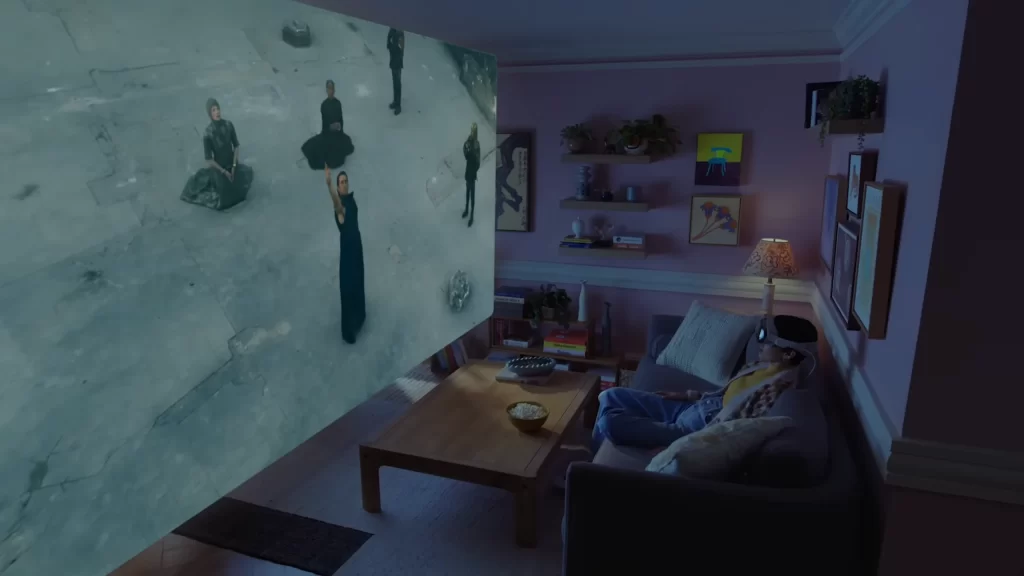 Apple Vision Pro for Working
---
Apple Visual Pro will offer one if not the best experiences for working with a headset on your face. The image quality, the sound quality, integrated Apple app environment and eye tracking features, allow for a perfect working remotely experience without limits. You can personalize your surroundings, add virtual screens to be able to multi-task easily…
A high image quality such as the found on a plus 4K MicroOLED panel can really help with working, as when using virtual screens, the image may not look as sharp and your eyes might feel a bit more tired because of having to do extra work to focus, however with a better screen and lenses like the ones found on the Apple headset this will be mostly solved.
The fact that is an Apple device, means it comes with many pre-installed apps from the environment, so you can resume from where you left it off on your phone, tablet or Mac PC, or begin working on something completely new from start to finish.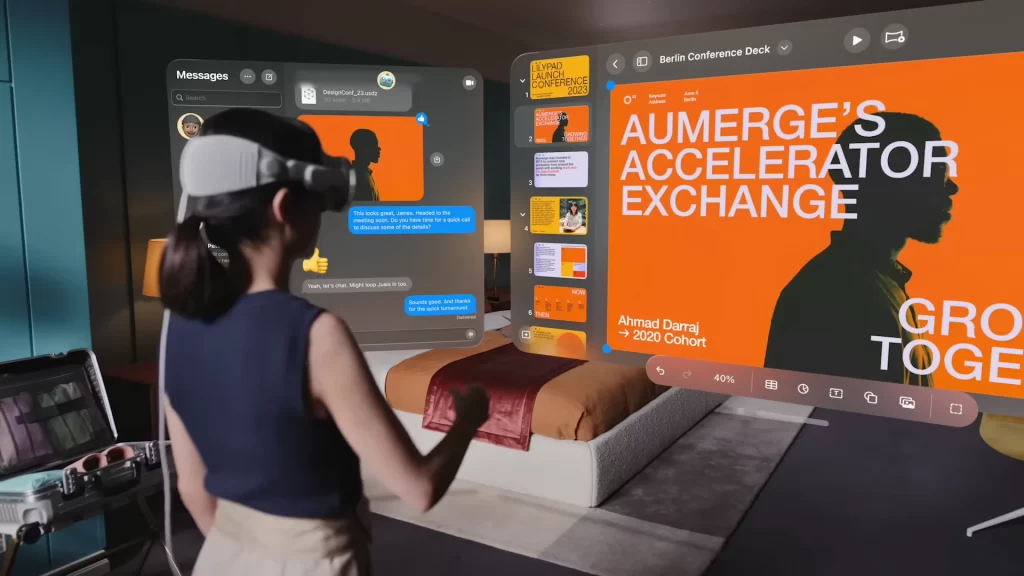 Technologies – M2 Chip, 4K MicroOLED per Eye, R1 Chip for Sensor Processing
---
The technology within the new Apple Vision Pro includes a micro-OLED display system that paired with more than 4K resolution for each eye, achieves a really high image quality, definitely a must try experience since most current headsets offer either IPS or OLED panels with a lower resolution. Until a new headset arrives to dethrone Apple's first AR/VR device, it's probably going to be offering the highest image quality on the market.
The headset utilizes 3D mapping to understand the physical space, ensuring virtual content seamlessly blends with the real world. It also comes with a 3D Camera, meaning you can shoot video and images on 3D, keeping those memories in a more immersive way than traditional camera.
The Apple Vision Pro is a standalone device, in other words, it features a whole computer inside the headset, in this case a dual-chip design featuring the M2 chip for main load and processing, and the R1 chip for sensor processing, we can expect minimal lag and a top-notch performance out of these two CPUs/GPUs.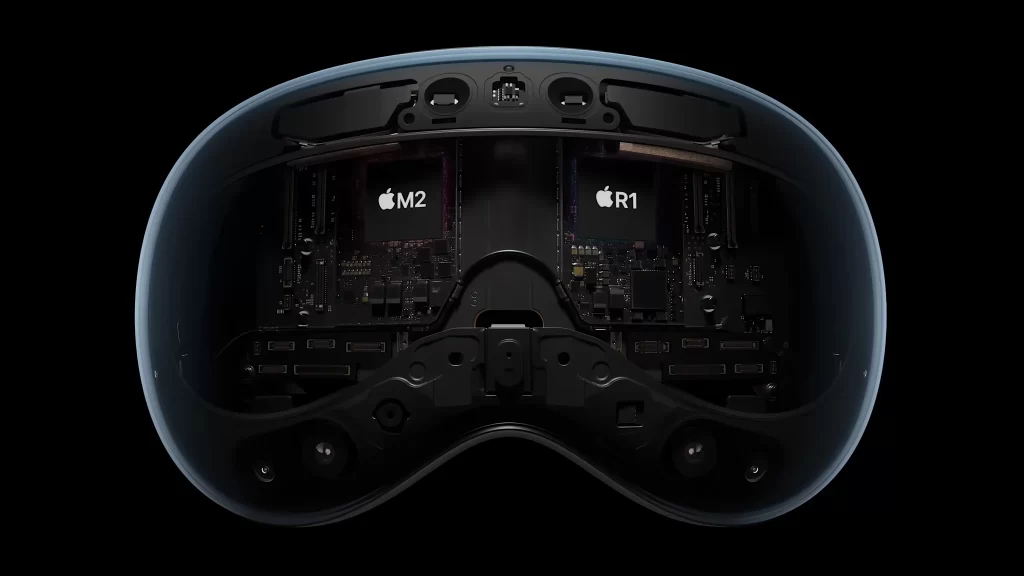 The headset is equipped with various sensors and cameras, including forward-facing cameras, downward-facing cameras, side cameras, infrared illuminators, a lidar scanner, and a TrueDepth camera. These sensors enable the device to track the user's hands, detect the environment, and offer a real depth on the image.
But there's still more to Apple's AR/VR headset, another technology that has never seen before, it's that Apple's AR/VR headset allows people to see your eyes and expressions while using the headset, this is possible through IR and eye tracking, combined with a frontside that it's not plastic but rather an OLED screen that projects the captured facial expressions.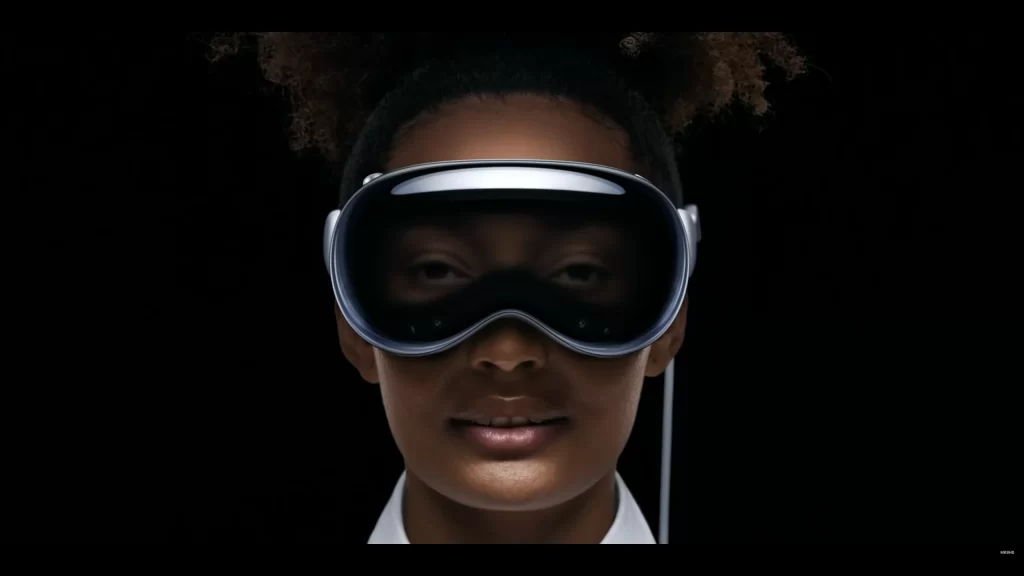 And at this point you might be wondering, great, but what about the controllers? Well, the magic here is that Vision Pro doesn't use controllers, it's all hand and eye tracking based control.
This means that you can use both your eyes and hands to click, select, and navigate the menus.
Marques Brownlee has been one of the few lucky ones that has been given a headset to try by Apple, and he's confirmed that this technology works great.
A lightweight, comfortable design
---
In terms of design, the new Apple Vision Pro is compact and aesthetically pleasing, with a curved lightweight aluminum alloy frame and a single piece of three-dimensionally formed laminated glass acting as a lens.
The headset is customizable for the perfect fit, with features like the Light Seal to block stray light, a soft and flexible frame, and a high-performance external battery.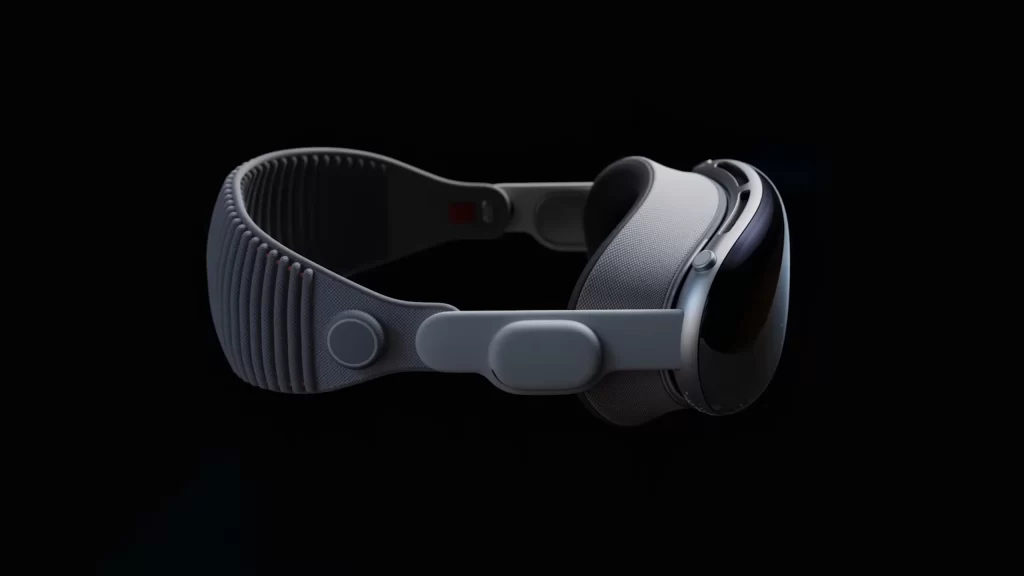 Price & Release Date
---
And last but not least, the price. Apple is well known for its high prices on every single product they sell, and the Apple Vision Pro is no exception.
It is a top tier product and so they decided to price it the amout of 3,500$, something that will hold back 99% of people, and given that people were already going crazy about the 1800$ for the Meta Quest Pro, this being twice the price won't help.
However, and as expensive as it can look, it's a not seen before kind of product as it offers many new features and improvements over what we currently have on Quest Pro, Pico 4 or Quest 2, and it's extremely powerful thanks to the M2 and R1 chips inside the headset. This is not a product that new people would buy as their first headset, but rather an enthusiast of either Apple or the VR and tech world.
About the release date, Apple says on their official website that the product will be available somewhere early next year.
More VR Related News
---
Meta officially announced the Meta Quest 3 – A proper succesor for the Quest 2?
Latest Pico 4 News – Update 5.6.0 is Out Now with New Changes and Improvements