Among the 16 MBTI Personalities the INTJ personality encompasses 2% of the world's population, being the second least common and the rarest among all female profiles. It is characterized by being a profile of very quiet, analytical and orderly people.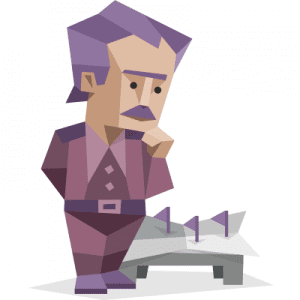 INTJ Personality – Master Mind
Summary
2% of the population (3.2% male, 0.8% female)
For them life is a chessboard where you always have to think before acting, and it is even normal that they have plans, strategies and patterns of action considered for the future.
Their main point of support is logical reasoning and ethical principles, and although it may seem so, they are not cold people, without emabargo they often resort to ignoring feelings to perform their analyses; this is why many people do not empathize with this personality and end up being a good antagonist profile. However, they are as likely to act under their own integrity as any other profile.
Adjectives describing this profile:
Very innovative, insightful, conceptual, logical, knowledge seeker, critical, determined, independent, competitive and focused on self-support.
INTJ – Explained by me:
They're people who look like robots. This type of rock is tremendously cold and calculating, and also somewhat associative: they prefer to be with themselves than with anyone else. They are people who look like robots. This type of people are extremely cold and calculating, and also somewhat asocial: they prefer to be with themselves rather than with anyone else. They love to learn and especially enjoy challenging their own intellectual abilities, so it is not uncommon for them to respect only independent and intelligent people like themselves. Like ENTJs, they are often seen as complete assholes and fictional villains, always looking for the best objective results, regardless of people's feelings, yet they are the most sincere and transparent profile of all.
Curiosities
Science and technology.
Second profile with higher IQ.
They are the least likely to suffer heart problems, and also the least predisposed to believe in supernatural phenomena.
It is among the profiles with the highest economic income.
The profile less likely to value family, relationships, friends, community service and economic security.
It's the most independent profile of all.
They're the ones who take the least pictures at social events.
The most likely to prefer single player video games.
The most likely to enjoy classical music.
Examples of INTJ People
People: Elon Musk, Nietszche, Nikola Tesla
Peronajes: House, Lelouch Vi Britannia, The Professor
Learn more about this profile:

¡Muy buenas, no todo el mundo lee hasta el final!
Síguenos en tu red social favorita para no perderte ninguna publicación nueva. Debajo de este texto encontrarás
botones para compartir este post y seguirnos
en
Facebook
,
Twitter
e
Instagram
. También puedes citar este artículo donde creas conveniente.
¡Que compartáis las publicaciones que os gustan nos ayuda enormemente <3!
También puedes dejar un
comentario con tu propia opinión
al respecto, sugiriendo algún tema del que hablar, o simplemente felicitando el buen trabajo de nuestro equipo escribiendo.
Por último, aquí tienes un resumen con las
temáticas principales
del blog, para que sigas echando un vistazo a la que más te guste: